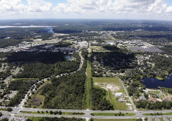 Legion Capital has acquired and commenced preliminary development work on an apartment project in the Lake Mary area of Central Florida. Lake Mary, just north of Orlando, is one of the most noteworthy and fastest growing areas of Central Florida, boasting high end residential communities and retail shopping, country clubs and headquarters for large multi-national corporations.
The newly acquired property is a 24.8 acre parcel that is located just .9 miles from the Sunrail light rail station. Sunrail is a recently launched passenger train system running from the residential areas north of Orlando, along the crowded 1-4 corridor, through downtown and further south into the tourist corridor. Legion is in the process of working with local planning and zoning agencies to determine the highest and best use for the property, but is contemplating a 200+ unit apartment project at present.
"Our newest project in Lake Mary is something we are extremely excited about, said Legion CEO James Byrd, "we believe we acquired the property at a favorable price and are in a position to create a highly successful multi-family community in the desirable Lake Mary area."
Legion has commenced initial planning and clearing of the property and plans on commencing preliminary development of the project in 2020. Legion will then look to sell the property to, or partner with a residential builder to develop the project.